The dependence on computers in the present age has also created the need of certain measures that can save your data and restore it if lost due to some negligence or unfortunate incident. Usually the data saved on the hard drive of a computer is of utmost importance. Losing such data could cause a huge embarrassment. To save you from an unexpected loss of your precious data, a number of software have been devised by the well-known IT companies of the world. They are already in the market.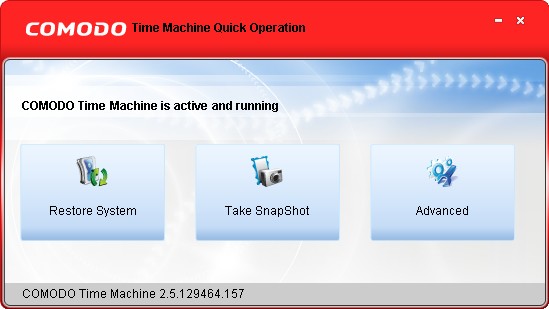 Comodo Time Machine, abbreviated as (CTM), is one of the most popular softwares which have the capability of restoring all the lost information from your computer. It is known as the remarkable rollback utility that takes only few minutes to give you back every bit of information and data you lost accidently. You should not be worried about any loss of the registry, critical operating system files and user created documents, having the wonderful Comodo Time Machine software.
You computer is exposed to a number of security threats in the form of virus attacks or unexpected hardware crash. Comodo Time Machine is also beneficial in taking the backup of all the daily working on a computer. In case of business enterprise and the organizations having record of various types, the need for a prompt system of backup files is quite necessary. If you manage backup files properly, it can save you from a lot of botheration and embarrassment. Comodo Time Machine is a remarkable support for preparing record of your work through CTM 'snapshots' option. Comodo Time Machine gets you rid of engaging your attention on the safety of your matter. You do not need extra vigilance in saving the data on home computers and keep them away from kids. Any mishap causing data loss can be covered up within no time. The software is a great help for Software Developers and testers as well.
Comodo Time Machine is an easy to operate software. All the applications are user-friendly and it takes only few minutes to grasp all the working of the software. The sub-console feature of the software can be operated even before your computer gets ready for its function. Quick Operation console provides you a shortcut access to your desired tasks at your computer. The minimum system requirement of Comodo Time Machine operation on your PC is Windows XP with service pack 2. It is also compatible the other versions of Windows introduced later on such as Windows Vista (32 and 64 bit) and Windows 7 (32 and 64 bit). The requirements for processor is Intel Pentium III Processor or higher with 128 MB RAM. Comodo Time Machine is available free of cost from the website of the software. You need only to click the icon showing free download and it will be instantly downloaded to your system. The website of Comodo Time Machine details of all the features of the software as well. A glance on features and applications will also benefit you before actual download.
Google+