The smooth and flawless working your PC is the first requirement to accomplish assignments based on computer. It is even required in case of entertainment programs where you cannot afford to face unexpected halts. TuneUp Utilities is the best solution to empower your PC to display fresh and prompt results. Get your work speedy and instant with the help of the latest innovation in the market. TuneUp Utilities can also be the best choice for those who wish their PCs run fast and be compatible to the currently introduced programs.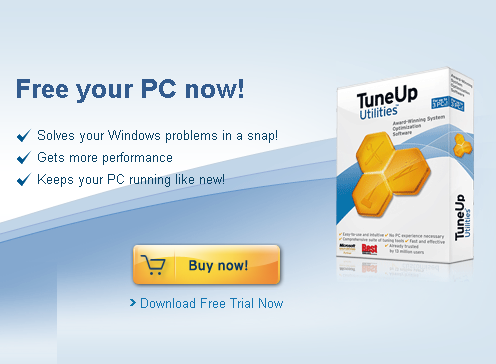 It takes only minutes to update your PC and enhance its working capability. TuneUp Utilities enormously stabilizes the performance of Windows. There is difficulty involved in running and installing TuneUp Utilities. Designed with a particular emphasis as a user-friendly software, TuneUp Utilities is captioned as '1-Click Maintenance to Turbo Mode'. T has been appreciated on a number of forums by the IT professionals and experts.
TuneUp Utilities is loaded with a number of features. The most striking Turbo Mode feature instantly disables the programs that may hamper the speed of your PC. It enables your PC processor to focus on those programs which you need and want to function at a speed. You have the option to enlist the programs which TuneUp Utilities stops temporarily. The suspension of some of the programs multiplies the performance speed. You enjoy the most exhilarating experience of playing games or running heavy softwares. Turbo Mode in TuneUp Utilities halts also the scheduled maintenance tasks for the time being in your PC. It is quite easy to postpone the working of Turbo Mode. You need only to click the postpone option and your PC will restore all the programs, disabled earlier.
Use Live Optimization on TuneUp Utilities and there is wonderful speed on the startup of your PC. It takes only seconds to reach at your required place without wasting time on the opening of many unwanted programs. Live Optimization also enhances the performance of your computer. During net surfing, your PC generates many temporary memory files which can block the smooth performance of your PC. TuneUp Utilities deletes these and many other unwanted files from your system. It always provides you a speedy and prompt access, saving your precious time. Moreover your PC functions on the required speed giving you the real pleasure of working. You can also locate the programs that are not installed on your PC and indicates as well the programs that are not in use but making the working of your PC slow.
TuneUp Utilities is the best help in fixing problems in your PC. It takes only a few second to get at the problem that may cause your PC multiple damages. It also saves you from hiring the services of an expert. TuneUp Utilities instantly fixes all the problems related to XP™, Vista™, and Windows 7™ that otherwise cause you much embarrassment.  An amazing feature of TuneUp Utilities is its restoration capability of the important data that you have deleted accidently. Just with the help of few clicks, you get back all that seems lost. With these wonderful features TuneUp Utilities is essentially needed software for every computer.

You may also like to visit: Top software in the world
Google+